Victorian Cake Company™
"Home of the Original Pink Champagne Cupcake"
"25 Sweet Years"
Candyland Cupcakes Party Time!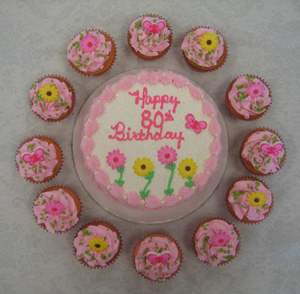 Our cute 7" round "Party Time! Cakes" go perfect with a dozen or more of our matching cupcakes! These special little cakes are known as our "Take 'em Home Today" cakes and are available each day. They serve about 6 people and can be ready in about 2 hours. Daily flavors may vary, or place your order 2 days in advance and select your favorite flavor.

Then add your cupcakes, as many as you would like, and we will decorate them to match your cake. Select your cake and cupcake decorations from our Cupcake Toppers page, and choose your colors.

It's Party Time!
Party Time! Cake & 1 Dozen Matching Cupcakes serves 18 - 20
---
---
---
Candyland Cupcakes™
Victorian Cake Company
602-246-4633
A licensed bakery since 1989
©Victorian Cake Company, All Rights Reserved