Victorian Cake Company™
"Home of the Original Pink Champagne Cupcake"
"25 Sweet Years"
Cupcakes of the Month Club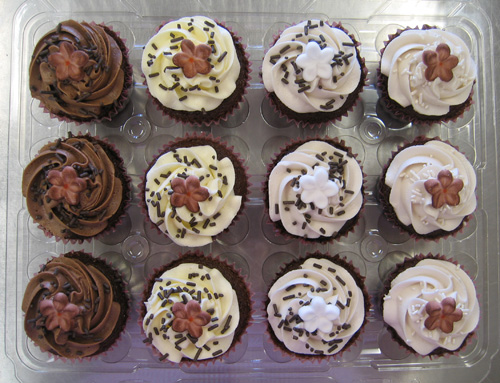 For that special executive that you really want to impress, there's nothing better than a dozen hand-delivered cupcakes every month.

Join the 'Executive' Cupcakes of the Month Club, and make a lasting impression by sending these beautifully packaged cupcakes that will be a constant reminder of your generosity all year long.

Each month, our expert designer will assist you in creating a customized assortment from our selection of over 40 varieties of gourmet cupcakes. Tied up with a matching bow, your cupcakes will be delivered by a professional messenger company on the date and time that you specify. We will be happy to include a personalized card and any other company literature that you may request. Join our Cupcakes of the Month Club today, and have your first cupcake gift delivered tomorrow.
1 year subscription is $385 per order (= one month free) plus delivery. Delivery charges are based on travel distance from the cake shop.
Total amount must be paid in full when placing order.
---
---
Candyland Cupcakes™
Victorian Cake Company
602-246-4633
A licensed bakery since 1989
©Victorian Cake Company All Rights Reserved